Unlike last week, the men from Pretoria started very well, and they breached the hosts' try-line four times in the first half hour, with the TMO unfortunately disallowing two of these "tries". But the Vodacom Bulls were still dominant enough in the first half to go into the break leading by 20-3.
The visitors were under pressure in the scrums but created a lot of opportunities, with Johan Grobbelaar (hooker) and Embrose Papier rewarded with first-half tries, and they built on this in the second half, with Arno Botha (loose forward) and Harold Vorster (centre) grabbing two more five-pointers.
On the contrary, the Emirates Lions only managed to get into the game in the 10 minutes before the break, making too many unforced errors to really trouble their neighbours' defence. This trend continued after the break as the hosts let slip numerous opportunities.
The TMO had a busy first 40 minutes though, getting involved in three calls, all of which saw the tries disallowed. Grobbelaar, who crossed the hosts' try-line three times in the first 20 minutes, had two tries cancelled, while the one that stood was from a devastating rolling maul, in the 17th minute.
Papier's try in the second quarter stretched the Vodacom Bulls' lead to 17 points – veteran flyhalf Morne Steyn had kicked two early penalty goals to one by his direct opponent Fred Zeilinga – but it should really have been more.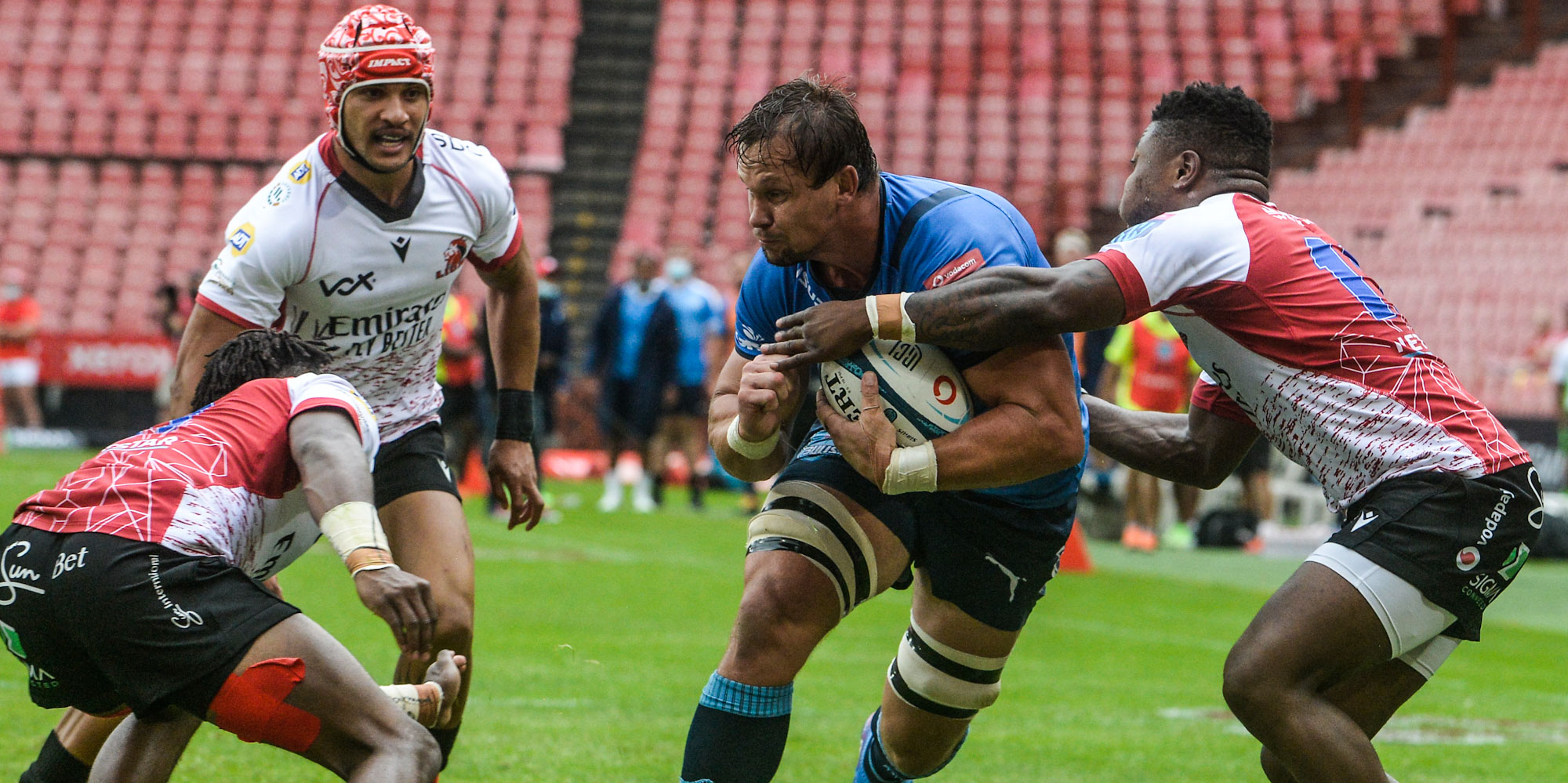 Rain started sifting down at Emirates Airline Park as the second half started, and it led to even more mistakes by the hosts, with their problems compounded by Zeilinga missing two early penalty attempts, and their captain Burger Odendaal forced to leave the field shortly after the break.
From a knock-on in their own 22, the Vodacom Bulls took control and Botha crashed over for their third try moments later, stretching the men from Pretoria's lead to 27-3.
The Emirates Lions finally got their first try – from a rolling maul by Springbok loose forward Jaco Kriel – in the 57th minute after the visitors lost Ruan Nortje (lock) to the sin-bin for repeated infringements.
Rain made handling increasingly more difficult which led to more mistakes from both sides and a slew of opportunities went abegging, which could have had a profound impact on the final score. The Vodacom Bulls got their bonus point try in the 74th minute after they kept the pressure up and Vorster finished a powerful move.
In the end, the Vodacom Bulls' power, composure and resilience saw them leave Johannesburg with a full house of log points, while Steyn also showed his worth, succeeding with all six his kicks at goal.
Scorers:
Emirates Lions 10 (3) – Try: Jaco Kriel. Conversion: Tiaan Swanepoel. Penalty goal: Fred Zeilinga.
Vodacom Bulls 34 (20) – Tries: Johan Grobbelaar, Embrose Papier, Arno Botha, Harold Vorster. Conversions: Morne Steyn (4). Penalty goals: Steyn (2).