They return to the top flight of the World Series at the HSBC France Sevens in Toulouse – for the first time since playing in Cape Town in 2019 – not only thin on experience, but they will also face three of the top five sides in the world in Australia, USA and Fiji on Friday and Saturday.
Luckily for Paul Delport though, the game is not played on paper. Instead, the coach says, they have nothing to lose when they lace up against some of the best players on the planet.
"We have a massive challenge first up, playing three of the top five teams in the world in our pool, but we would not have wanted it anyway different," said Delport.
"Remember, this is also a fact-finding mission for us – we last played two years ago and the game has moved on. So we are here to see what the trends are and where the top teams are going.
"From a team perspective, I would like to see how much of the work we have put in was worth it. It will be important for me to see where we are as a group and where we need to improve. Indeed, we came to Toulouse with nothing to lose."
Delport is very impressed with the qualities of their opponents.
Australia will play South Africa for the first time since Dubai in the 2016-17 season. They have won all four previous meetings by an average margin of 24 points, restricting the Springbok Women's Sevens to just one try or less in their past three matches.
This year, the Australians are conceding the least tries per tournament on average, and have held their opposition to one try or less in 19 of their 28 games.
"Australia are a wonderful team and they will present certain challenges for us," said Delport.
"But we have prepared as well as we could and the team is in a good space. One of the reasons is the massive goodwill we have received from the other teams and the organisers here – everyone has been really good to us and that has helped us getting back into that space we left two years ago."
The USA then await, but for Delport, the focus is on his own squad: "There has been much excitement in the team and the vibe is really good. Getting Zintle Mpupha back in added to that, she is a former captain and a great team player."
Mpupha is one of six players in the squad who also featured in Cape Town in December 2019. Liske Lategan, who was their top try-scorer at that event, Nadine Roos, Eloise Webb, Mathrin Simmers and captain Sizophila Solontsi are the others.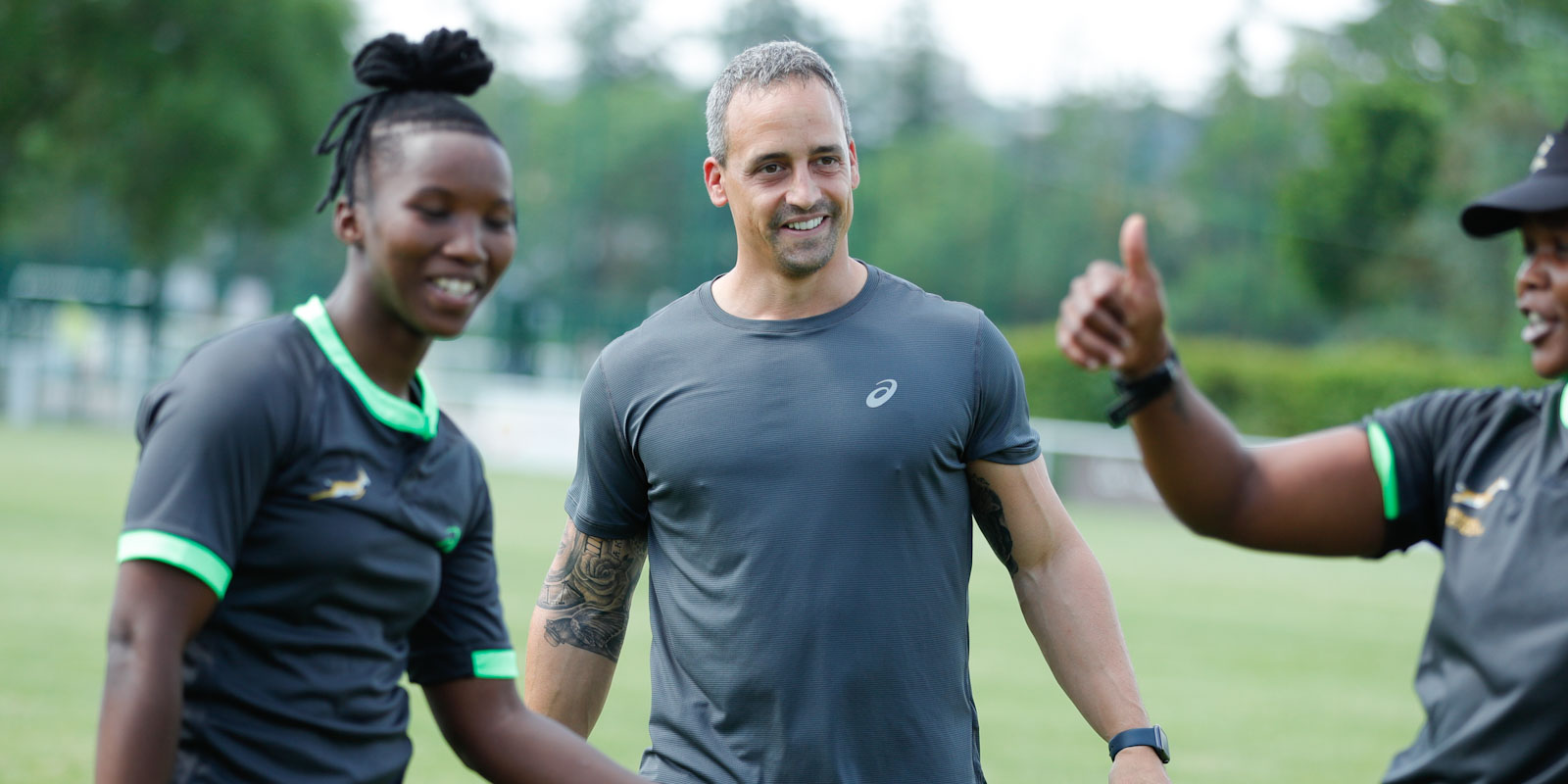 "What is very pleasing is the fact that our training sessions really went well and yesterday's session was probably our best of the year. So, the mood in the camp is good and everyone is really excited about this opportunity to play with the best teams in the world," Delport added.
South Africa will play for the first time in Europe since 2015 (Amsterdam) and will only play in their 14th World Series event overall.
 Selected stats:
Seven of the eight teams that will compete in the 2022 Commonwealth Games, are playing this weekend, with defending medallists New Zealand, Australia and England joined by Canada, Fiji, Scotland, and South Africa in Birmingham in July.
South Africa will be chasing their first victory in World Series events since December 2017 when they beat Fiji in Dubai, after losing all four games in Cape Town in their last tournament appearance.
They have tasted victory against two of their three Pool A opponents on the before, defeating Fiji 17-14 in Dubai in the 2017/18 Series, and the USA by 26-7 in Dubai in the 2016-17 Series.
SA pool fixtures:
Friday 20 May:
10h36: Australia
17h44: USA
Saturday, 21 May:
10h14: Fiji
Pools:
A: Australia, USA, Fiji, South Africa
B: New Zealand, Canada, Spain, Scotland
C: Ireland, France, Brazil, England
The Springbok Women's Sevens squad (with World Series stats):
Lerato Makua – uncapped
Asisipho Plaatjies – uncapped
Ayanda Malinga – uncapped
Snenhlanhla Shozi – uncapped
Donelle Snyders – uncapped
Anacadia Minnaar – uncapped
Eloise Webb – 3 tournaments, 13 matches, 2 points (1 conversion)
Sizophila Solontsi (captain) – 1 tournament, 4 matches
Nadine Roos – 3 tournaments, 14 matches, 41 points (7 tries, 3 conversions)
Mathrin Simmers – 8 tournaments, 40 matches, 30 points (6 tries)
Alichia Arries – uncapped
Liske Lategan – 1 tournament, 4 matches, 10 points (2 tries)
Zintle Mpupha – 4 tournaments, 19 matches, 25 points (5 tries)