For the record, the host nation beat Samoa by 35-7 in their seventh-place playoff in front of a massive crowd at Cape Town Stadium, prompting questions from many fans – where were these Blitzboks earlier in the weekend, when it really mattered?
The South Africans played with urgency, looked sharp on attack and determined on defence, with the players clearly set on giving Powell the sendoff he deserved.
The Blitzboks started like a house on fire from the kick-off and Sako Makata was over after 60 seconds after breaking some tackles on the left following a great attack. Ronald Brown's conversion make it 7-0.
Ninety seconds later, after showing some superb urgency with ball in hand, Angelo Davids dove over in the same corner, but the TMO saw a foot in touch and the try was disallowed.
A minute later he was not going to be denied though, chasing down a great kick from Selvyn Davids from a scrum, with Angelo Davids going over untouched. Brown was on target again and at 14-0, the hosts were in control.
South Africa's lead stretched to 21-0 at the break after the Samoans were penalised for playing Brown from an offside position after he took a quick-tap penalty and along with the yellow card, the referee awarded a penalty try.
Two minutes into the second half, team captain Siviwe Soyizwapi scored the Blitzboks' fourth try, with Brown yet again on song, as the Samoans were penalised for ill-discipline, while the South Africans played with an urgency not seen yet this weekend.
Not long after, JC Pretorius pushed the Blitzboks score into the 30s when he raced away after a turnover on the halfway line, with Cecil Afrika adding the extras. Two minutes were left and at 35-0, the result was basically in the bag.
Samoa then launched an attack, but they were hunted down close to the tryline by a determined Blitzboks defence, who then turned the ball over and then took play back 40m downfield.
With both teams' players clearly tiring, Samoa had the last say with a try by Vaa Apelu Maliko, but that didn't matter as the Blitzboks delivered a response that was deserving of a farewell to their long-serving head coach.
Scorers:
Springbok Sevens 35 (21) – Tries: Sako Makata, Angelo Davids, Siviwe Soyizwapi, JC Pretorius, Penalty try. Conversions: Ronald Brown (3), Cecil Afrika.
Samoa 5 (0) – Try: Vaa Apelu Maliko.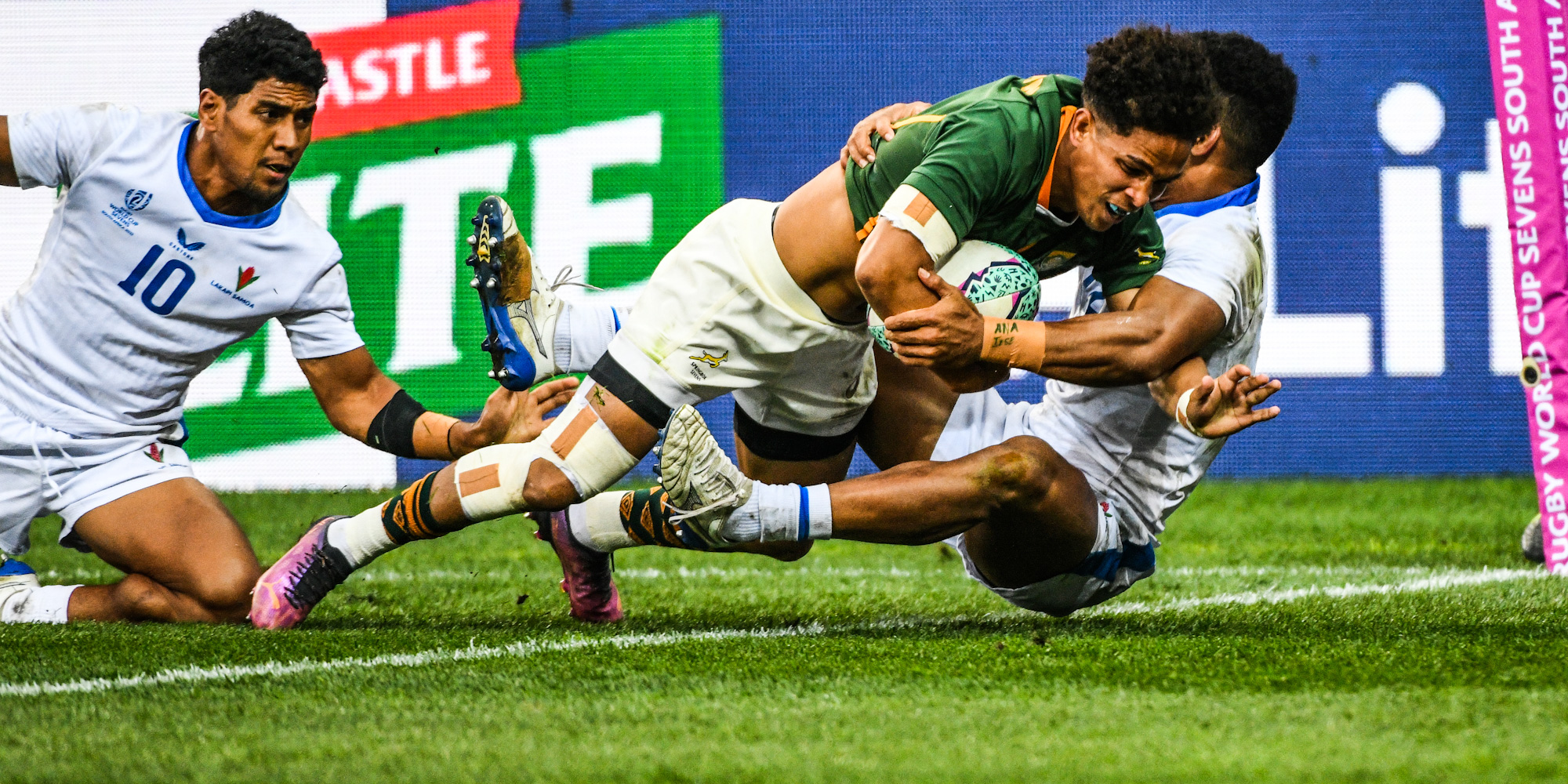 Earlier on Sunday, the Springbok Sevens team endured a second massive disappointment in just over 12 hours when Argentina beat them by 26-19 in their Championship fifth-place playoff match.
If ever the Blitzboks endured a nightmarish start to a game, this was it. Argentina scored their first try after just 13 seconds when they won back the kick-off, brushed off too many tackles and worked Tobias Wade over on the left.
And just over a minute later, Joaquin de la Vega also scored after more missed tackles by the host nation, with Wade adding the conversion to put them in control.
After that, the Blitzboks awoke from their slumber and JC Pretorius – from a great run up the right after the restart – got the men in green and gold on the scoreboard, and after much better continuity with ball in hand, Angelo Davids scored shortly before the break, with Ronald Brown's conversion making it 12-12 at half-time.
The Pumas drew first blood in the second half when Matias Osadczuk went over next to the posts when some gaps opened in the SA defence, and the conversion put them back in the lead again, by 19-12.
Playing with the ball for a change paid dividends as Shaun Williams found space to score under the uprights, converting his own try to make it 19-19 with two minutes to go.
The Pumas hit right back though, with Luciano Gonzalez scoring after some good interplay from the restart, and the conversion made it a seven-point game yet again.
The Blitzboks had one final chance, but Argentina won a breakdown penalty after the hooter had sounded to inflict more misery on the home team's RWC Sevens campaign.
Muller du Plessis said the results were frustrating and that the players were not doing themselves any favours.
"Last night was a slow start and we had to play catch-up and today it was the same, being 12-0 down in no time due to defensive errors," said Du Plessis, who feels the Blitzboks have one last opportunity to redeem themselves against Samoa.
"We have one more game to go and where we place is not important - we need to give coach Neil Powell something to remember us by, we need the huge crowd who came to see us play and give them something to cheer about, but also and most importantly, we need to put some pride back into the system," said Du Plessis.
"We have not performed, but we have one more opportunity and that will definitely be a focus for us for the last match."
Scorers:
Springbok Sevens 19 (12) – Tries: JC Pretorius, Angelo Davids, Shaun Williams. Conversions: Ronald Brown, Williams.
Argentina 26 (12) – Tries: Tobias Wade, Joaquin de la Vega, Matias Osadczuk, Luciano Gonzalez. Conversions: Wade, Alejo Lavayen, Santiago Vera Feld.