Davids said they were prepared for another hard grind against the visitors, while admitting that there were a number of areas the Springboks would work on as they look to build momentum and improve their performances going forward in the international season.
The Bok assistant coach reported a clean bill of health in the team as head coach Jacques Nienaber prepares to announce his match 23 on Tuesday, but he didn't give anything away in terms of team selection, saying it was important to get the balance right between getting the desired results and giving the new players a chance to show what they can do at international level.
"Luckily everyone has recovered and are fit at this stage, and we are ready to go," said Davids.
"We expected a tough battle against Wales, and as we said the whole of last week, we certainly never underestimated them. They lifted to the challenge, and they forced us into a slow start. They also managed to stop our momentum in the first half."
Davids added: "Test rugby is about playing in the right areas of the field and having a good kicking game is part of that to get out of your own half.
"Our kicking game is certainly not what we wanted, and we will work on that. We know there are areas we can improve on technically and tactically, so we have to be consistent and keep improving."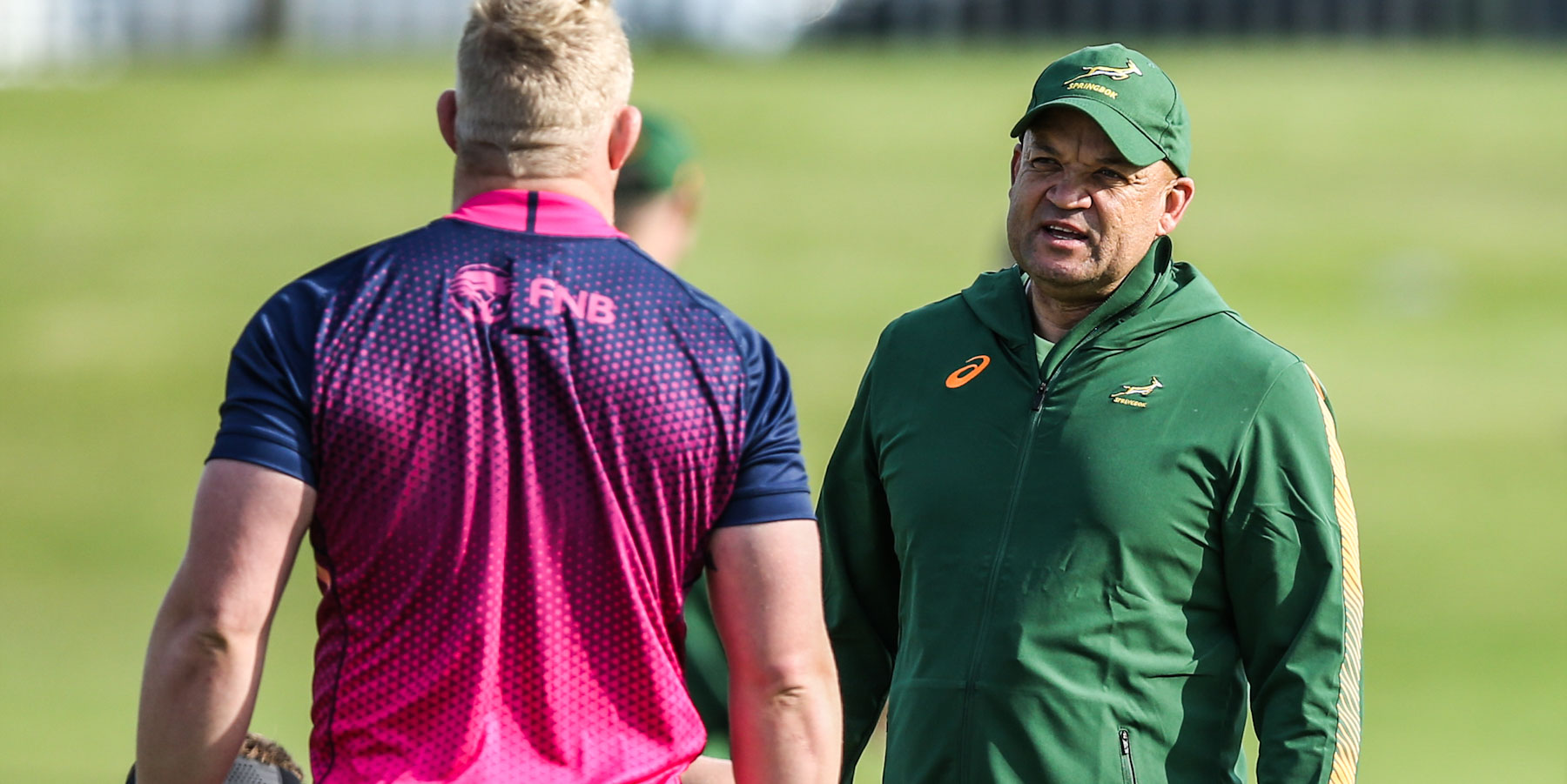 With 42 players having travelled to Bloemfontein - flyhalf Johan Goosen remained in Pretoria having spent the last three weeks with the team to do his rehabilitation from a knee injury while at the same time using the opportunity wisely to be exposed to the national structures and coaches - Davids said: "We were open from the outset in saying that we have a big group of players that we are working with and we have to remember that we are working with a long-term view on the Rugby World Cup next year as well.
"It is our objective to try to give everyone game time, but it is very important to get the balance right so that we can build depth and win Test matches."
One of the newer players in the squad, Vodacom United Rugby Championship Player of the Tournament, Evan Roos, also fronted the media in Bloemfontein and said it has been an honour to be part of the national team.
"It is a massive honour being part of this group and to work with such world class coaches and players," said Roos, who is enjoying a wonderful break-out season so far.
"It certainly is a step-up from playing for one's franchise and I am really enjoying it.
"I'm very happy and honoured to be here. I didn't think it would happen, so it was a bit of a surprise, and I'm trying to take in as much as I possible to learn from the coaches and players."
Of the competition with Elrigh Louw, who made his Test debut last weekend, and Jasper Wiese, who scooped the Man-of-the-Match award for his consistently superb showing last week's match, Roos said: "They are both brilliant players, and everyone in the squad realises that we have a role in the squad. If you are not part of the match-23 then we help the other players prepare for the game.
"Japer, Elrigh and I get along very well, and there is a lot of competition in the team."
With the Springboks playing in front of a capacity crowd at Loftus Versfeld for the first time in South Africa since 2019, Davids said they expected another exciting day out for the team on Saturday.
"It was a very emotional atmosphere for all and especially for the players, and I suppose it is normal that one can lose focus in such a situation," said Davids.
"We've learned lessons from that, and I think the players who didn't play would have learned from it too, and this week in Bloemfontein and next week in Cape Town will be no different in terms of the atmosphere."