The result means that the Springbok Women's Sevens will play for ninth place at their home event and incidentally, will meet Spain again on Sunday (at 08h22). In the other semi-final in that bracket, Japan and Brazil will clash at 08h00.
"We were much better today in turning pressure into points," said Dazel.
"Yesterday, against Australia and Ireland, we managed to put them under pressure, but then allowed them to escape without us putting points on the board. Today, that was not the case and that was a huge boost for our confidence and justified the effort the players put in."
The South Africans played with renewed passion and energy in their final pool game and came close to their first win before Spain ultimately denied the host side at a buzzing DHL Stadium.
Rights Mkhari scored twice for the Springbok Women's Sevens team as they came close to recording that elusive win, but in the end Spain snuck through with two tries in the final two minutes.
In the first half, moments after Nadine Roos was denied by the TMO, Mkhari got the South Africans' first try from a turnover on the Spanish tryline. At that stage, the Bok Women were playing beautifully, but Spain fought their way back into the game and Eva Aguirre Diaz scored the equaliser shortly before the break, at 7-7.
Mkhari raced away for the second try shortly after the restart, capitalising on a missed tackle before she went over in the left corner. Roos landed a great conversion to hand them a 14-7 lead.
This try gave the South Africans a shot of confidence and they attacked with vigour every time they got the ball, but they were robbed of points on a few occasions as the last pass went to ground.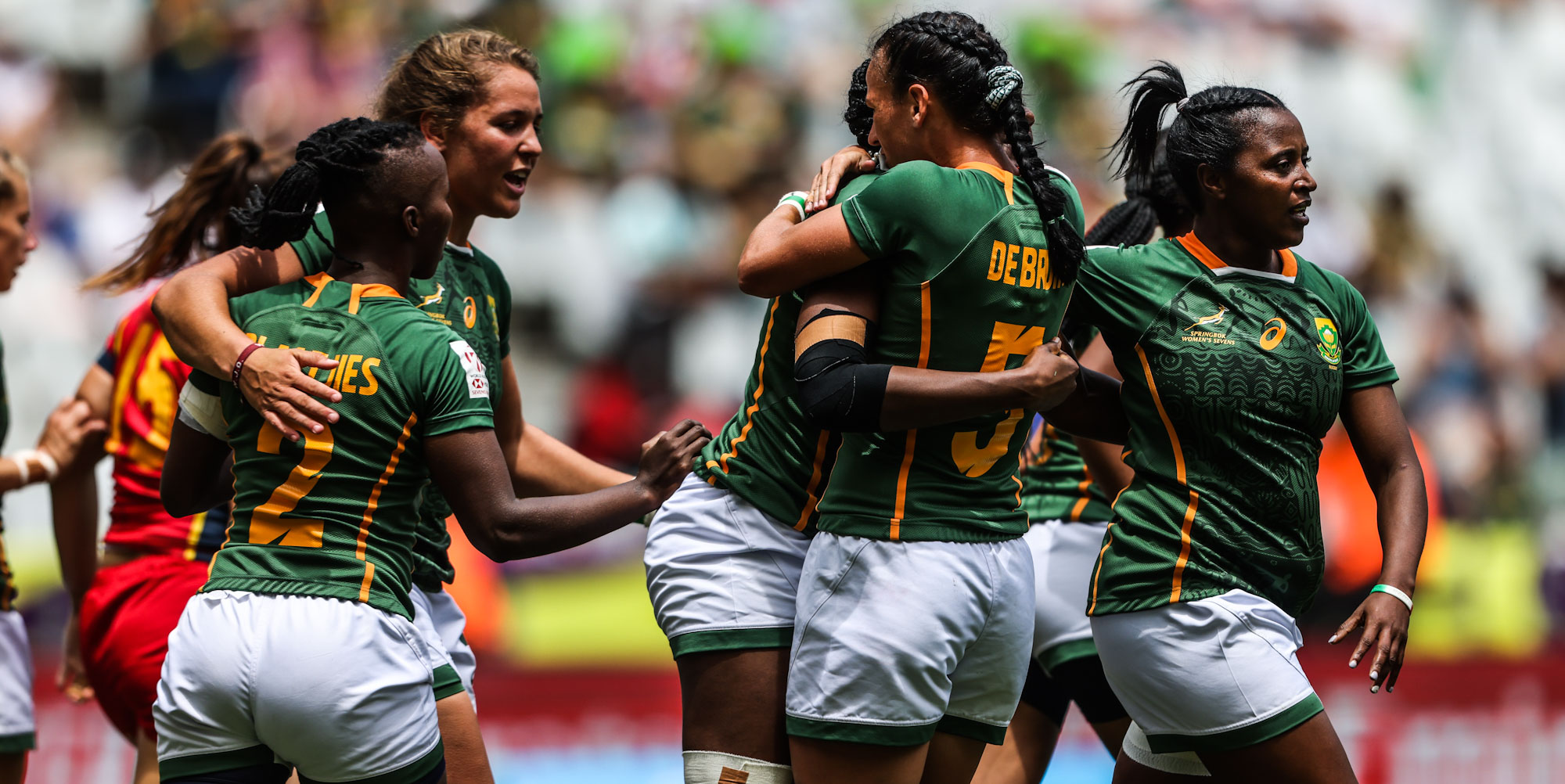 Spain then hit back with their second try when Diaz scored from long range, but the conversion sailed wide to make it 14-12 with two minutes to go, and with time running out, Marta Cantabrana Gil broke the Bok Women's hearts with Spain's third try.
"Rights really played well for us today, but she was not the only one," said Dazel.
"We made a number of very good decisions and to be leading a core team for most of the match is testimony about the effort out there today.
"In the second half, we did make some mistakes, but that was rather a matter of combinations not quite knowing each other that well. We also played a lot of rugby over the last two weeks and the bodies were tired at the end."
Dazel is confident that their match against Spain on Sunday will be an even better effort: "The bodies will be sore, but what we saw this afternoon made me very excited about tomorrow. That performance did put some pride back in the jersey.
"One cannot ask for more, a team playing for the badge and leaving nothing on the field. Add some finishing touches like we did against Spain today and we are definitely going in the right direction," he added.
Scorers:
Springbok Women's Sevens 12 (7) – Tries: Rights Mkhari (2). Conversions: Nadine Roos (2).
Spain 17 (7) – Tries: Eva Aguirre Diaz (2), Marta Cantabrana Gil. Conversion: Ingrid Algar.