The South Africans faced two tough opponents on the opening day in Rugby World Cup Sevens and current HSBC World Rugby Sevens Series champions Australia, as well as the experienced Ireland, and despite trying hard, came up short in both their pool matches.
Australia won 52-0 in the opening game, while Ireland beat the Bok Women's Sevens by 24-0 at the DHL Stadium on Friday.
"We did some good things in both games and that is encouraging for tomorrow's match against Spain," said Dazel after the clash against Ireland.
"We managed to put both those sides under pressure in the opening minutes of each game, but then we fell away as they lifted the intensity, and we battled to counter that.
"It was not unexpected though, as Australia are the top team in the world and Ireland compete in the top tier as well, so I am not too despondent after the first day."
South Africa did beat Spain in Toulouse in May, but Dazel said that is not relevant.
"It might give some of the players who played in that game confidence, but that is all," he said. "We need to do the basics well and try to control the tempo of the game a bit better. We struggled to do that today."
Springbok Women's Sevens captain Nadine Roos also reflected in the positives they took from the two defeats.
"We managed to create good opportunities, but we did not take any of them and that was a bit disappointing," said Roos.
"But the fact remains that we did create opportunities against teams that are in the top tier, so we need to finish those tomorrow if we want to have a better day two."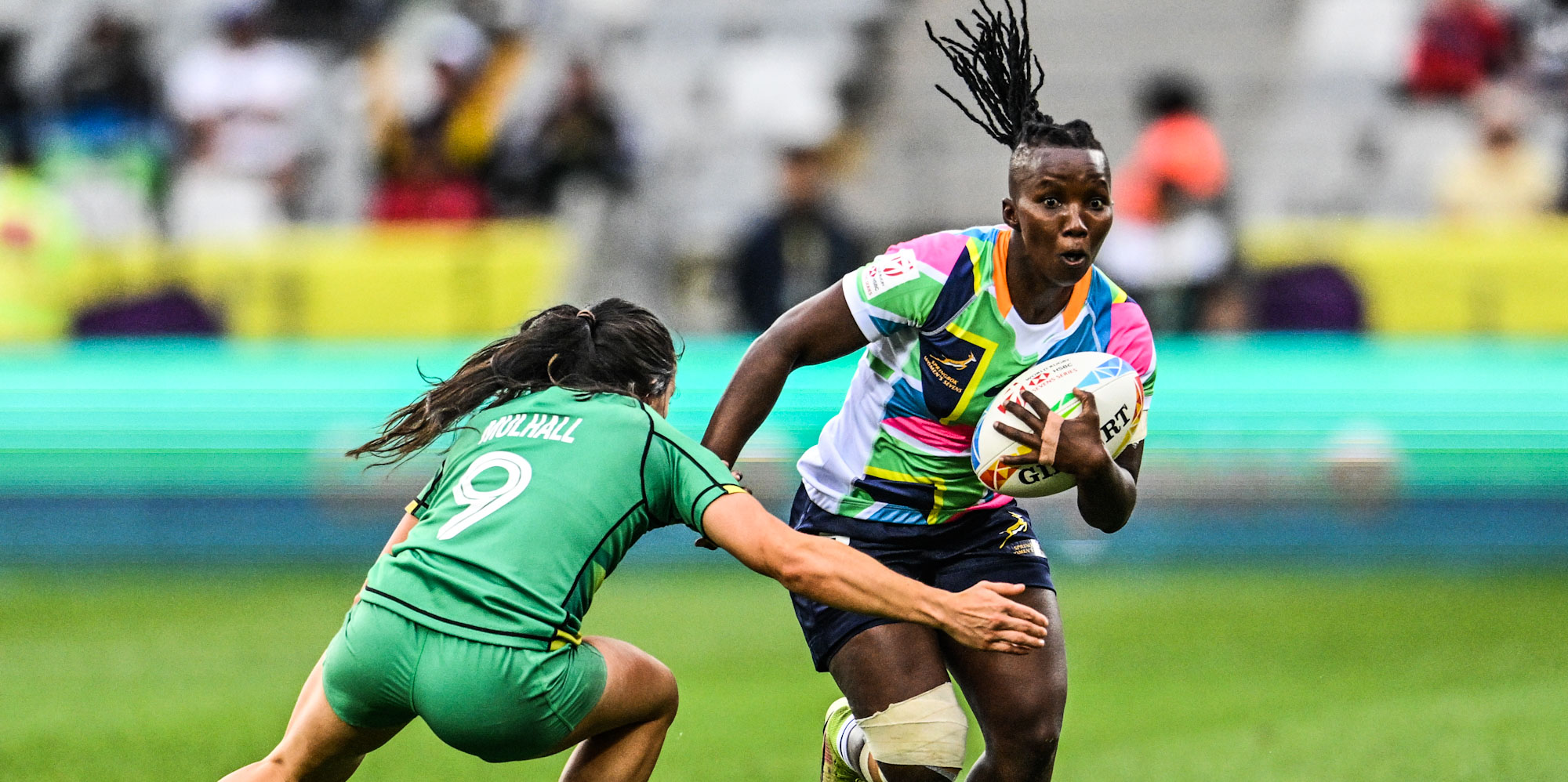 Roos scored 16 points against Spain the last time they played in Toulouse, with her side winning 21-19, but she is also not expecting the same result without real effort: "We did well that day, but this is a different challenge. I am sure the bigger crowd we will see tomorrow will be a boost for us, playing in front of this passionate crowd lifts our effort by at least 20%.
"So, I hope the fans are in tomorrow morning and in full voice. We are going to need their support."
The Springbok Women's Sevens team played with more urgency in their second Pool A game at the HSBC Cape Town Sevens, but ultimately could not keep up with the experience of Ireland, as the women in emerald green won the match by 24-0.
The South Africans started much better than in their first game against Australia (which the RWC Sevens champions won by 52-0 - report below) and managed to find some attacking form, although their ball retention and handling were problematic.
Ireland scored in the third minute when Amee-Leigh Murphy Crowe went over after they showed some patience on attack, but the rest of the first half was a proper arm wrestle as the Bok Women's Sevens got stuck in.
They played with more control and made it all the way into the Irish 22, but conceded a turnover - and a yellow card to Marlize de Bruin - only for Beibhinn Parsons to score two minutes after the hooter had sounded.
Murphy Crowe scored Ireland's second try two minutes into the second half after a clever kick into space which increased their lead to 19-0.
Although the South Africans had a couple of opportunities to attack, they lost the ball at crucial times, and after one such turnover, Megan Burns scored Ireland's fourth try, which is how it ended at 24-0.
Scorers:
Springbok Women's Sevens 0
Ireland 24 (12) - Tries: Amee-Leigh Murphy Crowe (2), Beibhinn Parsons, Megan Burns. Conversions: Lucy Mulhall (2).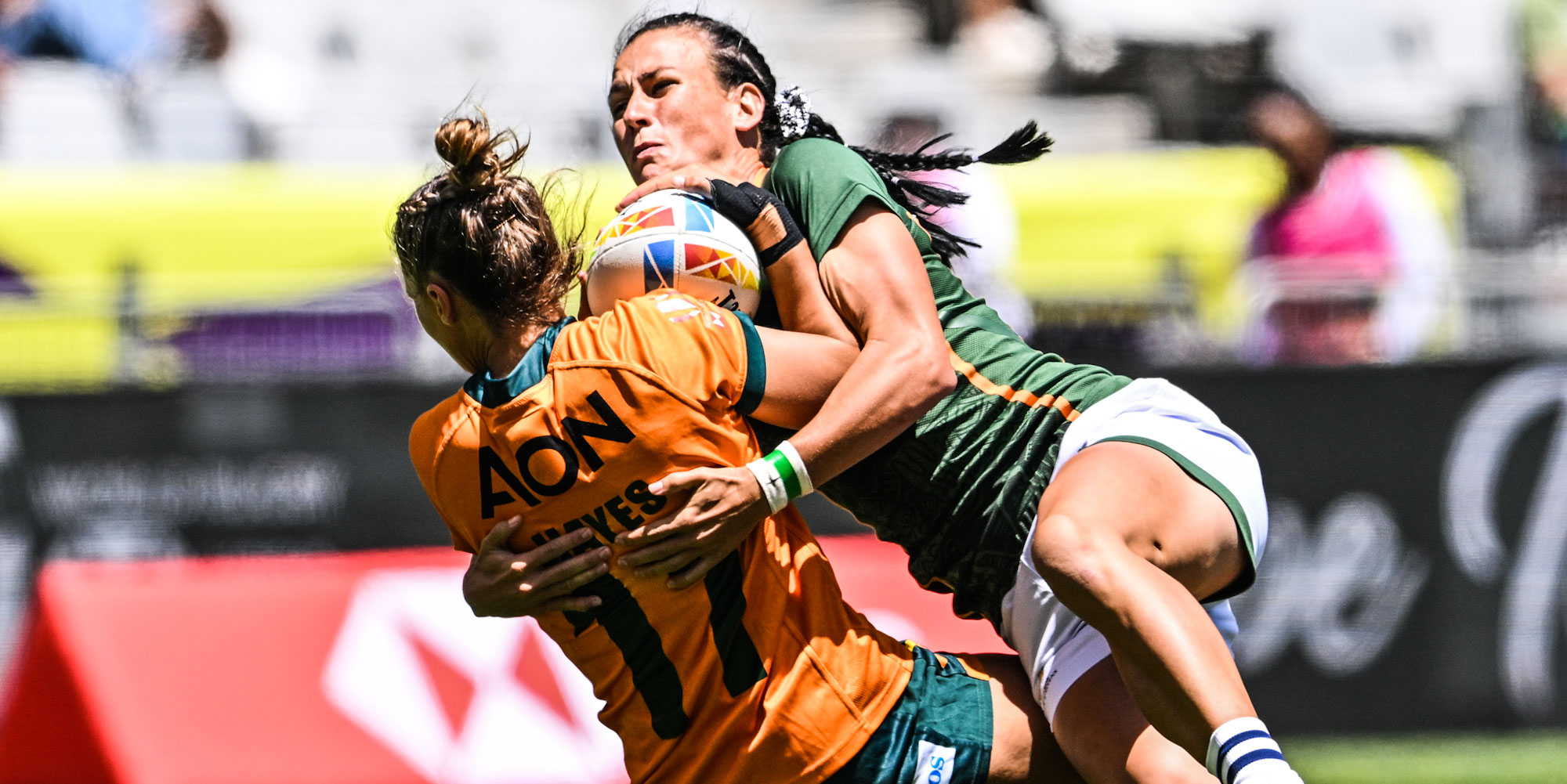 The Springbok Women's Sevens team were given a harsh re-introduction to the HSBC World Rugby Sevens Series in their opening match in Cape Town as the high-flying Australians won their Pool A match by 52-0.
The Aussies built on their tournament-winning form from Dubai last weekend and scored eight tries en route to victory at DHL Stadium, while the local ladies, who reached the final of the International Invitational tournament last weekend, struggled with the intensity of playing at a much higher level.
Despite a fired up start on defence by the South Africans, with a massive hit by Marlize de Bruin on Demi Hayes setting the tone, the Aussies soon found their rhythm as they scored four first-half tries.
Charlotte Caslick finished a move that started in their own 22, Maddison Levi scored twice from turnovers, and Hayes also went over after they were simply given too much space. Dominique du Toit converted all four tries to hand the defending World Series champions a handy 28-0 lead at the break.
Bienne Terita made it 33-0 early in the second half as the Springbok Women's Sevens team struggled to get and keep their hands on the ball.
Faith Nathan scored Australia's sixth and seventh tries in quick succession after the South Africans turned over possession on the attack in their opponents' half, and then missed a few tackles.
Despite their best efforts, the South Africans could not keep the Aussies from scoring again as Faythe Manera went over on full time for a try on debut in the gold jersey, which she converted herself to hand her team a 52-0 win.
Scorers:
Springbok Women's Sevens 0
Australia 52 (28) - Tries: Charlotte Caslick, Maddison Levi (2), Demi Hayes, Bienne Terita, Faith Nathan (2), Faythe Manera. Conversions: Dominique du Toit (5), Manera.