Dyers, who became the first captain of a black national side to leave South Africa when he led the Proteas on their tour of Europe in 1971, was also a revered coach, selector and administrator. He was born on 16 January 1936. 
"When it comes to major role players in the history of South African rugby, 'Oom' Dougie's name stands alongside all the greats," said Mr Alexander.
"A courageous player, he was a true servant of the game at all levels, who captained South Africa at a time when a large part of the population was excluded from playing for the Springboks.
"Rugby played a massive part in his life and I have nothing but endless admiration for a man who was central to the game for a very long time, in club and provincial colours, green and gold and later on training fields and boardrooms."
Dyers made his union debut for Parow at the age of 19 and soon established himself as a player and leader in the team before moving to Walvis Bay in 1961, when he helped to start a rugby club in the town so that he could continue to play his beloved game.
Upon his return to South Africa a few years later, Ramblers had to close due to apartheid policies and Dyers's family had moved to Elsies River in Bellville, where he joined the Blue Birds Rugby Club, part of the new Northerns Rugby Union.
Blue Birds was part of the South African Rugby Federation and they played for the Silver Cup, from which he was selected for the Proteas, as the Federation's national representative side was called.
At the end of 1971, Dyers captained the Proteas on a seven-match tour to England and the Netherlands, where they won four, lost two and drew one game. A few months later, in May 1972, he led the Proteas against the touring England side, with the visitors winning the match 11-6 in Cape Town, a few weeks before they beat the Springboks in Johannesburg.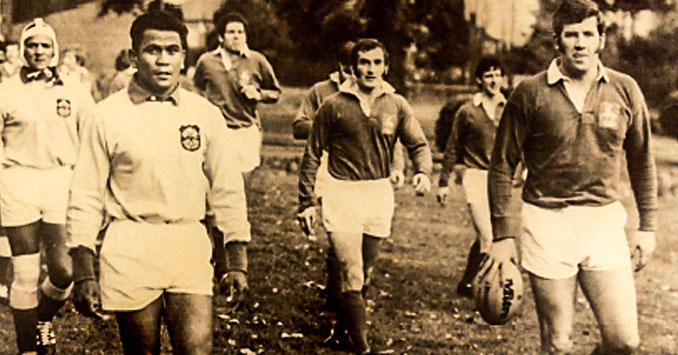 The match between the Proteas and England in 1972 was the first international in which blacks played against whites on South African soil, shortly before the African Leopards also faced the tourists.
Dyers also led the Proteas against the touring British & Irish Lions in Cape Town in 1974, while they also faced the Leopards in two non-official Tests in Johannesburg and Port Elizabeth.
"To lead the Proteas on historic occasions such as these, puts into perspective the big role 'Oom' Dougie played in South African rugby history," said Mr Alexander.
After he retired from playing rugby, Dyers went into coaching and later, he took charge of the Proteas, before being appointed to coach the SA Barbarians team in 1979, the first of its kind to tour outside South Africa.
A year later, in 1980, Dyers had his second taste of facing the British & Irish Lions when he coached the SA Barbarians in their tour game against the men in the famous red jerseys, and in 1983, Dr Danie Craven offered Dyers a position at the South African Rugby Board.
In his role as national selector, a position he held for 17 years, Dyers stood firm in his belief that black players were good enough to play for the Springboks and as a result, Errol Tobias was selected to face England in 1984.
From 1991 until his retirement in 2002, Dyers served with the Western Province Rugby Football Union, working on development structures, and later he was elected as junior vice-president of the union.
"As a player, 'Oom' Dougie never got the recognition that was bestowed on other of his contemporaries, but that didn't stop him from pursuing his own dreams, and after his playing days, be worked tirelessly at all levels of the game to ensure others' dreams also come true," said Mr Alexander.
"He left an immense mark on the game he loved so much – as a player, national captain, coach, selector and administrator. He devoted his life to South African rugby, and for that I would like to honour him.
"Our thoughts are with his family, friends loved ones in this very difficult time – may you find solace in the memories of 'Oom' Dougie and the knowledge that he was a true pioneer in South Africa."