Booi said the experience gained against Canada last week not only exposed them to the pace and intensity the fourth ranked team in the world exhibited, but also the small margins that can create a downward spiral in your efforts.
"We had done the reviews and that game is gone, but it gave us a platform to launch our plans against Spain," said Booi.
"There were lessons learned in that game and our four debutants will certainly be better in this week's Test match, while the more experienced players in the squad gained some momentum from playing rugby at test match level again.
"Almost none of us have since the Rugby World Cup in New Zealand last year and that showed against Canada. With that game under the belt now and all the positives taken into this weekend, we will be ready for Spain."
Booi said the victories last year against Spain in Johannesburg and Potchefstroom will boost the players' confidence, but they do realise that it will be two different teams lining up this time.
"At least we played them less than a year ago, where we have not faced Canada in 10 years, so that will work in our favour," she said.
"We knew what worked last year, but they have played a number of Tests already, so they will be better prepared than us in that regard. The way we prepared though was very pleasing and our captain's run today went off very smoothly.
"I am really excited about the game tomorrow as I believe we have a clear understanding of what we need to do. If everyone play their best, leave nothing out there and stick to our game plan, a positive outcome will come our way."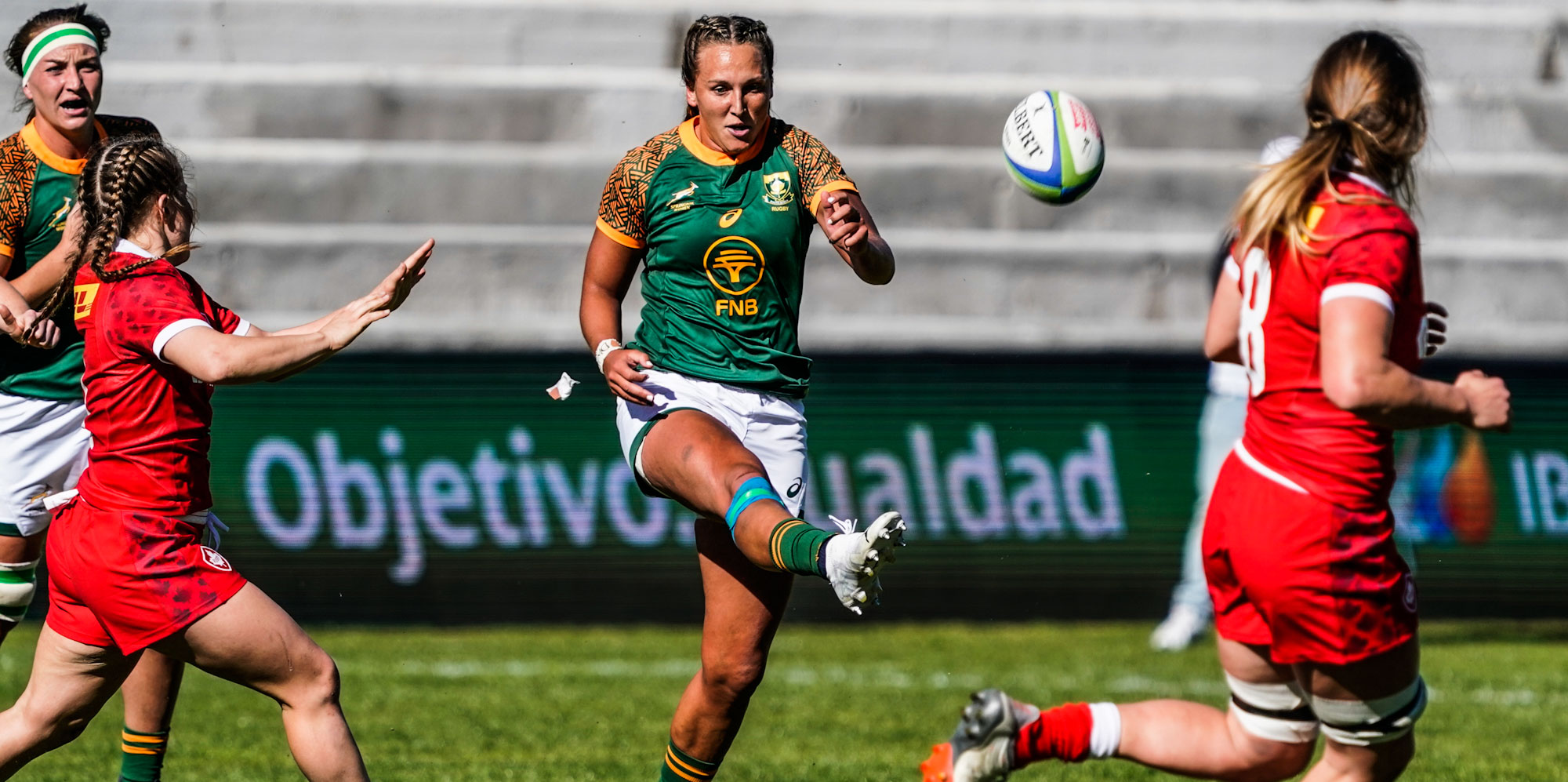 Booi's positive mindset is echoed by flyhalf Libbie Janse van Rensburg, who kicked kicked 29 points in the two-test series against Spain in August 2022, her points coming from seven conversions, four penalty goals and a drop goal – the first drop goal by a Springbok Women's player in Test rugby.
For Janse van Rensburg, there is more to offer the Spanish at Estadio Nacional de la Universidad Complutense.
"We have definitely improved as a squad over this last 10 days and there is much more clarity on how we want to play," said Janse van Rensburg.
"We beat Spain last year, so it is not an impossible task in our minds. Yes, the outcomes of this tour will not only be about the results, but we also need to win games to show that we are on the right pathway to 2025.
"The next World Cup cycle is what we are hoping to expand on, and gaining experience will be vital for us in the long run."
She was confident that the new game plan introduced by interim coach, Louis Koen, will bring the desired results: "We are developing our game in a different direction, and I think that is a good thing. The players are coming to grips with that and what is needed to be successful. A win in Spain will boost that.
"I am still learning in my position, so I am mindful of improving and adding to my overall contribution every match I play. I think our new style fits my game better and that gives me confidence to go out and try things. Who knows, Spain might just be at the end of another drop goal," she smiled.
Selected stats:
World rankings: The Springbok Women must win by more than 15 points to be the higher ranked of the two nations and condemn Spain to a new low of 13th.
Head-to-head
Played 5, Won 2, Lost 3, Points for 98, Points against 101, Average score 20-20
Highest score: Spain 36 (36-0 on 17 August, 2014) / South Africa 44 (44-5 on 13 August, 2022)
Biggest winning margin: Spain 36 (36-0 on 17 August, 2014) / South Africa 39 (44-5 on 13 August, 2022)
First Test: 17 August, 2014; RWC 2014: Spain 36-0 South Africa (Marcoussis, France)
Last Test: 19 August, 2022: South Africa 37-14 Spain (Fanie du Toit Stadium, Potchefstroom)
The back-to-back wins in August were South Africa's first against Spain after the first three meetings, between 2014 and 2019, had gone in favour of Las Leonas, who also won their only previous encounter on Spanish soil, triumphing 17-5 in Villajoyosa in November 2018.
Match details – South Africa v Spain
Venue: Estadio Nacional Universidad Complutense, Madrid
SA time: 13h30
Referee: Precious Pazani (Zimbabwe)
Live Stream: https://bit.ly/40DedGf