Two Carling Currie Cup fixtures take place on Friday, with the action kicking off at 16h00 in Stellenbosch where DHL Western Province host Windhoek Draught Griquas at the Danie Craven Stadium, followed by the early evening clash in Bloemfontein between the Toyota Cheetahs and the Airlink Pumas, which starts at 18h00.
The Cell C Sharks host the Sigma Lions in Saturday's only game at the Hollywoodbets Kings Park in Durban, which starts at 17h00. The Vodacom Bulls, who are the defending champions and current log leaders, have a bye this weekend. All the action will be broadcast live on SuperSport.
In the penultimate round of league matches this season, DHL WP will attempt to atone for last week's 33-10 away loss to the Sigma Lions by delivering a winning performance against the high-flying Windhoek Draught Griquas.
The Northern Cape side delivered the shock result of last weekend' action when they outplayed the Toyota Cheetahs 46-18 to end the Free Staters' run of nine consecutive wins. That win also pushed them up into third place with 26 points from five wins in 10 games.
The Cape outfit have struggled to find their rhythm this season, winning only twice in 10 outings, so they will be under pressure to deliver a successful result against the hard-running visitors. Apart from their current superior league position, the men from Kimberley will also feel confident having won the previous three meetings between the two sides, stretching back to last July.
The white and blue hooped jerseys suffered a narrow 20-22 defeat in the two teams' fourth-round fixture played in February in Kimberley, and Jerome Paarwater's side will be determined to make amends for that on Friday in Stellenbosch. The last time DHL WP won this fixture was in January 2020, by a score of 34-17 in Cape Town.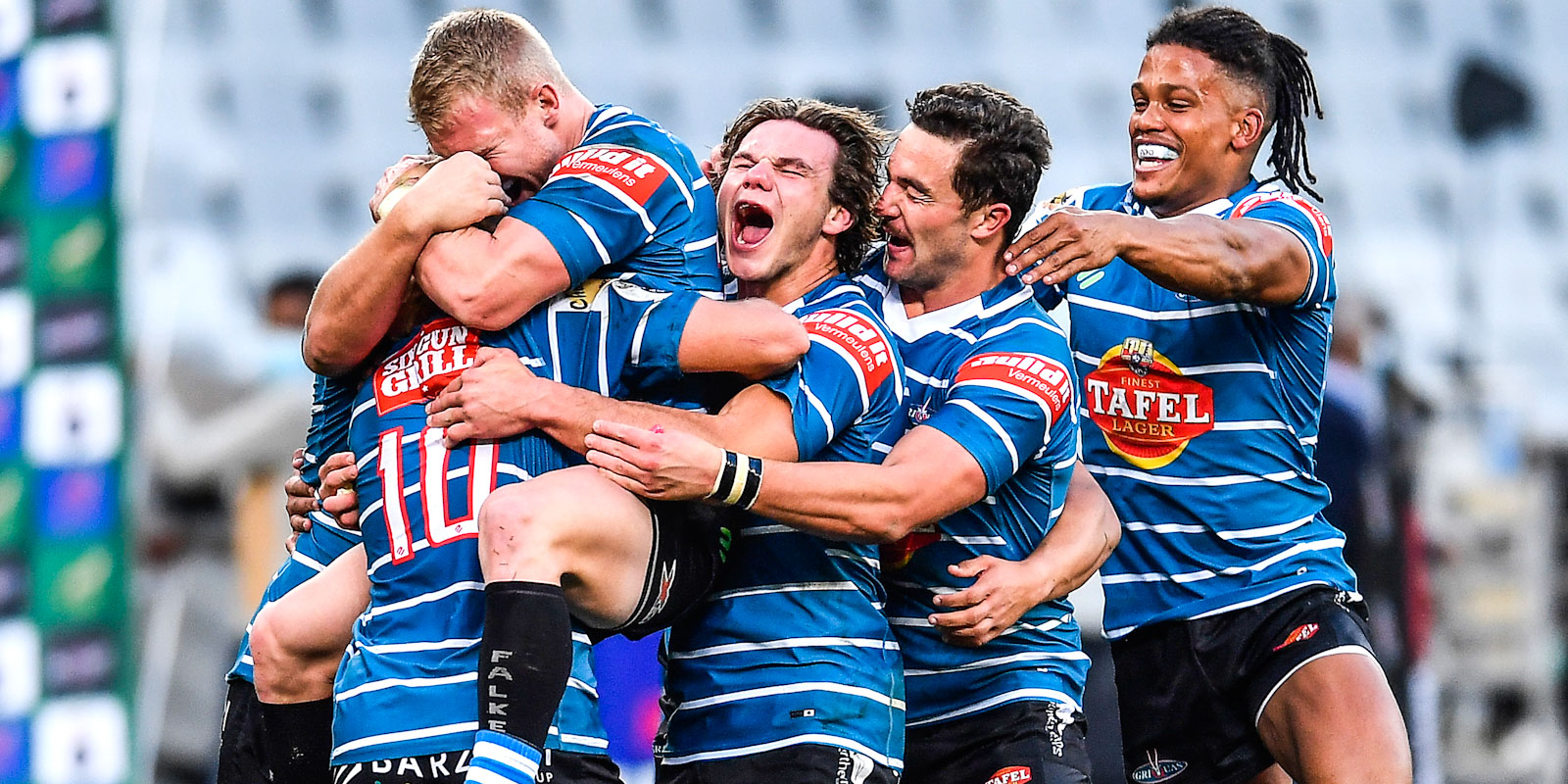 Both the Toyota Cheetahs and Airlink Pumas tasted defeat during last weekend's dramatic round. The side from Bloemfontein saw their nine-game winning run clipped by Windhoek Draught Griquas, while the 14-man Airlink Pumas lost 31-26 in Pretoria, where the Vodacom Bulls staged a successful second-half comeback.
The Free Staters rule this fixture having won four of their previous five – the latest by a margin of 28-17 in February when they met in Nelspruit. The men from Mpumalanga's only success during this time was last August, a 28-19 win in Nelspruit.
In Saturday's only fixture, staged in Durban, hosts the Cell C Sarks return to action after a bye the previous round. The Durbanites and Sigma Lions have each won twice during their previous five-game stretch against each other, with one cancelled game in-between. The coastal side won 45-31 in Johannesburg the last time they met in February.
However, the Joburg outfit will be buoyed by their first win of the campaign last week at home against DHL WP. A second win won't come easy against a quality Cell C Sharks side stacked with experience and equally eager to win in order to safeguard their position in the top-four.
Carling Currie Cup Premier Division match information:
DHL Western Province vs Windhoek Draught Griquas
Date: Friday, 3 June 2022
Venue: Danie Craven Stadium, Stellenbosch
Kick-off: 16h00
Referee: Morne Ferreira
TV: SuperSport
Toyota Cheetahs vs Airlink Pumas
Date: Friday, 3 June 2022
Venue: Toyota Stadium, Bloemfontein
Kick-off: 18h00
Referee: AJ Jacobs
TV: SuperSport
Cell C Sharks vs Sigma Lions
Date: Saturday, 4 June 2022
Venue: Hollywoodbets Kings Park, Durban
Kick-off: 17h00
Referee: Cwengile Jadezweni
TV: SuperSport
Carling Currie Cup First Division
This weekend is crunch time for the two candidates still in the race for promotion to the Carling Currie Cup Premier Division, namely Eastern Province and Touch Down Griffons, who are both in action during this round.
With only matches between the local South African teams counting for barometer league points, EP currently sits atop this ladder with 25 points from six games. Their remaining matches are against the Zimbabwe Goshawks on Sunday in Port Elizabeth and then six days later against the Kenyan Simbas in Cape Town, which won't count towards promotion.
The Down Touch Griffons' match, and also their last clash against a fellow-SA side of the season, is on Saturday in Brakpan against the Valke. The permutations are straightforward – victory for the Northern Free Staters will see them clinch promotion, while EP must hope the Valke do them a huge favour by beating the visitors and prevent them from collecting a bonus-point.
The SWD Eagles and Black Lion get the action underway on Friday when they clash from 16h00 in George. The game at Outeniqua Park is followed by two match-ups on Saturday – the Valke host Down Touch Griffons at 15h00 in Brakpan, while the Kenyan Simbas and Leopards clash the same time in Nairobi, Kenya.
Sunday's fixtures between Border and Boland in East London, and EP against the Zimbabwe Goshawks in Port Elizabeth, both start at 15h00 to round off the weekend's important fixtures.
Carling Currie Cup First Division fixtures:
Friday, 3 June
16h00: SWD Eagles vs Black Lion – Outeniqua Park, George
Saturday, 4 June
15h00: Valke vs Down Touch Griffons – Bosman Stadium, Brakpan
15h00: Kenya Simbas vs Leopards – Nairobi, Kenya
Sunday, 5 June
15h00: Border Bulldogs vs Boland Kavaliers – Police Park, East London
15h30: Eastern Province vs Zimbabwe Goshawks – Nelson Mandela Bay Stadium, Nelson Mandela Bay