The Springbok Women meet Cameroon in the first of their three matches in the tournament before taking on Kenya (Wednesday) and Madagascar (Sunday) in a one-week sprint.
"We are playing every four days and it will be important to establish good momentum early on as that will carry into the second and third matches of the tournament," said Qawe.
"We have made a couple of changes in our team since our last outing and there are a couple of younger players as well, so we cannot just assume things will fall in place tomorrow. Our mindset and focus must be strong and direct on the job at hand."
Qawe will make her debut as captain, taking over from injured Nolusindiso Booi, but that is not weighing heavily on her mind.
"I am excited and very humbled, but we do have a strong leadership group in the team, and they have embraced me being the captain, so I do not foresee any problems in that regard," she said.
"We have Asiphe (Mayaba) making her debut and a few players with just a handful of caps, but the core of the team has a lot of experience and has played big moments before."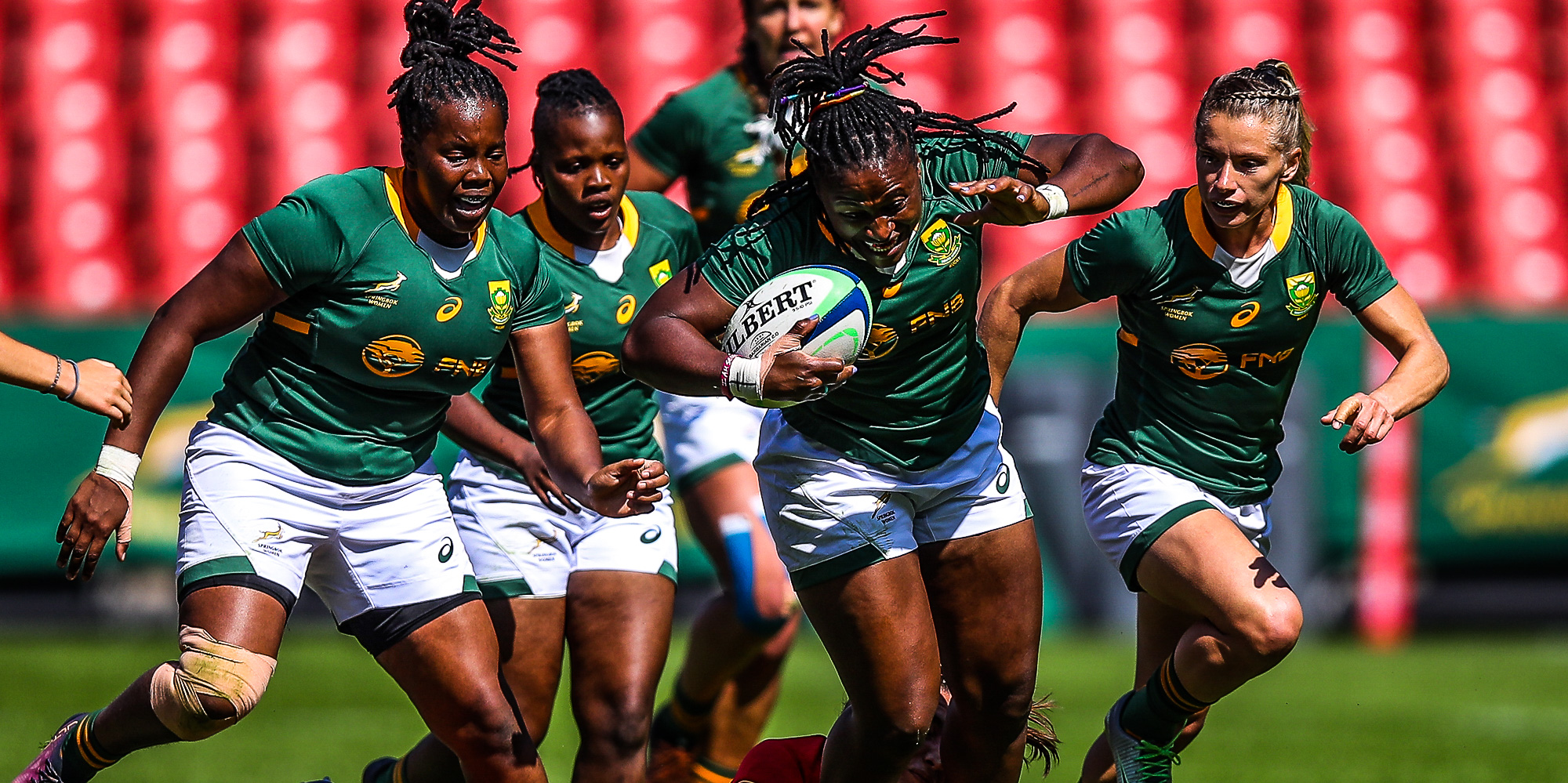 The unknown quantity will rather be Cameroon.
"We have not played them, so we have little knowledge of what to expect. It is a good thing though, as we can now just focus on our own game and objectives and how we deliver. They are big and will be physical, but we know what we are capable of," Qawe said.
Springbok Women v Cameroon
Date: Saturday, 20 May 2023
Venue: Stade Makis, Antananarivo, Madagascar
Kick-off: 12h00 (SA time)
Referee: Julie Randriarimanana (Madagascar)
Livestream: Rugby Africa Facebook page
Head-to-Head:
First test match between the two teams.
Selected stats:
Libbie Janse van Rensburg could extend her Springbok Women record of test points scored (115) on Saturday.
Asiphe Mayaba will make her debut, becoming the fourth 2022 Junior Springbok Women's player to play for the senior side a year later.
Chumisa Qawe will become the 10th player to captain the Springbok Women since 2004 when they played their first test match.
Zintle Mpupha (17 tries) could extend her test try scoring record for the Springbok Women.
The Springbok Women team to face Cameroon:
15. Byrhandrѐ Dolf - 2 caps, 0 points
14. Asiphe Mayaba (uncapped)
13. Chumisa Qawe (captain) - 12 caps, 5 points (1 try)
12. Zintle Mpupha - 18 caps, 91 points (17 tries, 3 conversions)
11. Jakkie Cilliers - 5 caps, 13 points (1 try, 1 conversion, 2 penalty goals)
10. Mary Zulu- 1 cap, 0 points
9. Rumandi Potgieter - 5 caps, 0 points
8. Lerato Makua -7 caps, 0 points
7. Nompumelelo Mathe - 11 caps 10 points (2 tries)
6. Lusanda Dumke (vice-captain) - 20 caps, 25 points (five tries)
5. Danelle Lochner – 2 caps, 0 points
4. Sinazo Mcatshulwa - 19 caps, 35 points (7 tries)
3. Azisa Mkiva – 3 caps, 0 points
2. Roseline Botes - 9 caps 15 points (3 tries)
1. Asithandile Ntoyanto - 15 caps, 10 points (two tries)
Replacements:
16. Lindelwa Gwala - 22 caps, 15 points (three tries)
17. Sanelisiwe Charlie – 7 caps, 0 points
18. Yonela Ngxingolo - 21 caps, 5 points (1 try)
19. Vainah Ubisi – 1 cap, 0 points
20. Rights Mkhari -10 caps, 35 points (7 tries)
21. Unam Tose – 13 caps, 0 points
22. Libbie Janse van Rensburg - 12 caps, 115 points (5 tries, 30 conversions, 9 penalty goals, 1 drop goal)
23. Simamkele Namba - 8 caps 30 points (6 tries)